Debit Cards
Picatinny's Visa Debit Card provides you the convenience of paying for purchases without writing a check. The transaction will be debited from your Checking Account and will be included in your monthly statement or can be viewed anytime using your Online Banking account. With the Allpoint network, you can use your card at over 55,000 surcharge free ATMs worldwide.
Zero Liability
Visa's Zero Liability Policy guarantees that you will not be held responsible for fraudulent charges made with your card or card information. (See Verified by Visa for details.)
Verified by Visa
When you receive your debit card you will be automatically enrolled in Verified by Visa.
This is a free service that will provide you an extra layer of protection when you use your debit card for online purchases.
The Convenience of Instant Issue Debit Cards
Have you ever lost your debit card just before leaving for vacation? Or, have you been notified that your debit card was deactivated due to fraudulent activity? No need to worry, Instant Issue Debit Cards are now available at all branch locations. We'll have you back up and running in no time.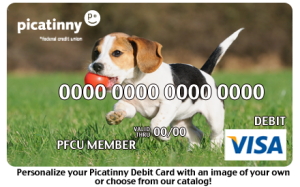 We can replace a lost or stolen card on the spot. No more waiting 7-10 business days for your new card to arrive in the mail
Open a new checking account and walk out with your new debit card activated and ready to go.
Make using your debit card fun. Personalize your card with your favorite photo or pick a background from our card catalog.
Picatinny is now offering our members the speed, convenience and personalization that meets your needs and lifestyle!
A $10.00 fee applies to all instant issue debit cards. However, this service is free for any new members requesting a debit card at the point of account opening and for current members that have been notified that their debit card has been deactivated due to fraudulent activity. Picatinny Federal Credit Union reserves the right to reject any image submitted in our sole and absolute discretion, for any reason. Please read Personalized Debit Card Disclosures for more information.